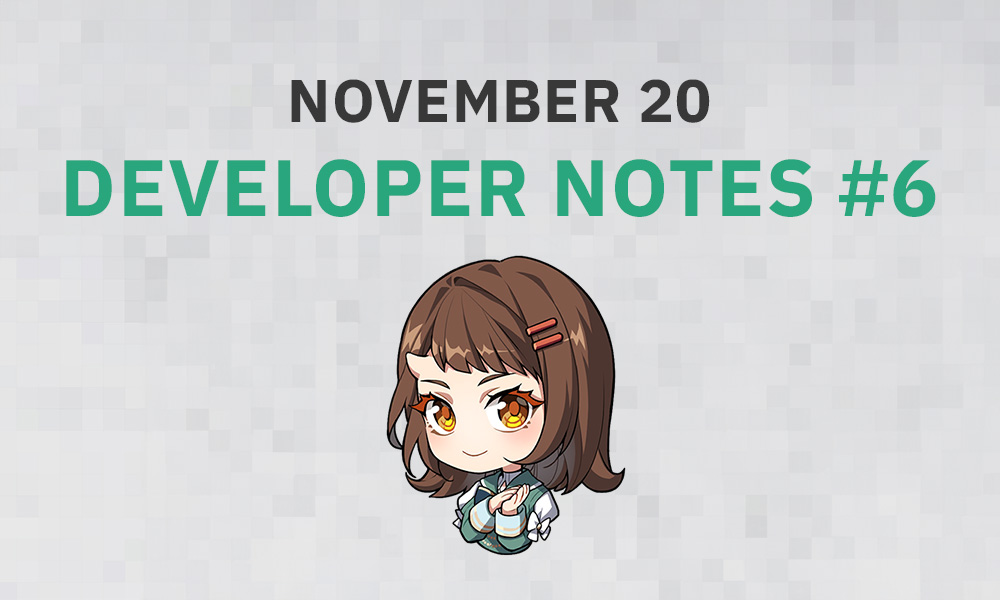 Scheduled to be updated at 11/29
Progress on Adjusting Adventure Difficulty Balance and Improving Rewards
As mentioned in Dev. Note #5, the development team is aware of the problem of the rapid increase of difficulty after the 16F and stagnation in Adventure Mode, as well as the lack of Shinsu or Link EXP for Shinsu Link growth to overcome this. Various preparations are being made to resolve this matter.
In the first improvement batch, we wanted to check the impact of directly adjusting the difficulty of stages from 16F to 29F through the 11/15 Update.
Since there is a close relationship between Shinsu Link growth and Adventure Mode balance, the plan was to apply it sequentially and carefully check the progress of Regulars and make improvements.
We underestimated that there would be so many Regulars enjoying our content, and should have made improvements to meet your various needs sooner, however we plan to account for this moving forward.
Moreover, we were unable to apply the promised reward improvements during this process.
Improvements include increasing stage clear rewards, achievement, and loot rewards.
Due to many concerns and discussions about how to apply retroactive compensation to the Regulars who have already cleared the stage and finding a balance of fairness with Regulars who have not yet cleared the stage, there was a delay, and as a result, the reward improvements were not included in the 11/15 Update.
We sincerely apologize once again for not being able to keep our promise. We will continue to improve rewards in various ways, including those mentioned above, and we are preparing a separate supplementary system, 'Astrolabe'.More detailed information about the 'Astrolabe' system will be provided later.
The balance above 30F was planned to be adjusted in the 11/29 Update, taking into account both the difficulty adjustment results of the previous floor and the balance of the new content, 'Ignition Weapon'.
However, even though some Regulars have sufficiently developed Shinsu Link, problems have arisen in which it is difficult to clear stages of 31F or higher. We are faced with a situation where it is difficult to ask our Regulars to wait until the next update.
It may be possible to simply adjust the balance up to 35F, but we thought it would be inappropriate for the stagnation to continue longer despite efforts to achieve rapid growth.
We decided to promptly implement the Shinsu level rank and expansion scheduled for the 11/29 update, so we conducted the second balance improvement patch on 11/17.
We would like to improve the current unreasonable Adventure difficulty level and the Shinsu Link growth system so that various features can be combined together to provide our Regulars the enjoyment of continuously clearing the Adventure.
We regret that if we had considered everything well in advance and communicated about realistic difficulties, we would not have caused such confusion.
In the future, we will reorganize the current development organization so that we can continuously adjust the expansion of new floors and the balance of existing floors. We will do our best to avoid the same type of inconvenience.
In addition, until the 11/29 Update, we will provide Shinsu and Link EXP as push notification rewards every day to make up for the lack of Loot.
The progress plan for reward balance is as follows:
Daily Mission and Weekly Mission Reward Improvement (To be added on the 11/29 Update)

We will provide additional Shinsu Link growth materials in daily and weekly missions, which are one of the regular sources of rewards, to help you grow further.

Guardian's Test Reward and Balance Adjustment (To be added on the 11/29 Update)

The Guardian's Test was designed to provide continuous challenges each day and receive rewards, but as the level of difficulty became too easy and the attractiveness of the rewards decreased, it became merely a task.
We are adjusting its balance in a way that makes it more enjoyable.
It will be improved to be more helpful for actual growth, providing more fun and challenging experience than it is now, while also serving as a source of rewards and Link EXP.
Next, let's talk a bit about other core issues: reward improvements.

Astrolabe System (To be added on the 12/20 Update)

As mentioned earlier, after much thought about improving the essential Adventure rewards that were not applied in the 11/15 Update, we have decided to build a new separate system that could increase Loot.
We considered a structure that would reflect both existing efforts and the future playing experience.
When the 'Astrolabe' system is applied, 'Astrolabe Key' based on the Teammate's original grade will be given whenever the Teammate proceeds Limit Break.
You can use this 'Astrolabe Key' to control time for Coin, Shinsu, and Link EXP in loot to continuously obtain additional rewards.
The Astrolabe will be unlocked upon clearing a certain Adventure Chapter, and the time of unlocking is under review, but is being considered being applied at a time when new Regulars have a certain level of understanding of the game.
This is a method that allows you to retroactively receive Astrolabe Keys according to the Limit Breaks of Teammates of all grades, including R and SR grades, who have already progressed their Limit Breaks.
You can immediately increase your Loot through the Astrolabe Keys you have obtained.
We will develop it as quickly as possible so that we can release it on the 12/20 Update.
< Astrolabe UI >
Direction of future events(To be added on the 11/29 Update)
Since launch, we feel like we have been unable to provide our Regulars with the proper level of enjoyment through the campaign and other events.
There were many factors, but the core problem was that the key rewards could not be received just by playing persistently, and the number of times you could enter content was too limited even if you wanted to enjoy it more.
We made efforts to make changes, but ended up disappointing our Regulars every time. Therefore, when designing future events, we will make adjustments so that we not only provide sufficient play opportunities, but also ensure that key rewards can be earned by consistently playing and participating.
We promise to use the above configuration as the main structure, but to design it with auxiliary charges so that you can shorten the time, repeatedly obtain rewards, or catch up on parts you missed playing.
This will be applied starting from the upcoming campaign event.
Our goal is to improve the content and rewards that are fundamentally lacking, and quickly start developing content from past campaigns and new types of events and mini-games, so that there is no down week without something to do. 
Supplementary sources of SSR+ Teammates(To be added on the 11/29 Update)
Many Regulars have asked us to make it easier to acquire SSR+ Teammates.
SSR+ Teammates are the highest level Teammates, so we intentionally tried to make them rare, but made a misjudgment that did not provide a solution for obtaining them.
By adding the 'Black Market' system, we would like to provide direct help in acquiring the SSR+ Teammates you prefer.
In the Black Market, you can pick up the specific SSR+ Teammate you want, and the desired SSR+ Teammate is guaranteed once you meet the 'pity' system conditions.
The Black Market system is a mid-later content that will unlock after clearing a certain Adventure Chapter.
Conceptually, it is composed of a request-receiving part based on the part where Xia Xia appears as Informant in the 'The Hand of Arlene' area in the original webtoon.
In the Black Market, unlike a normal summon, you can obtain a pickup Teammate. If acquisition fails, you can receive another item. You can use Suspendium or a separate ticket in this content.
In addition, convenience feature improvements that allow you to check the growth level and possession status when selecting a pickup Teammate are also prepared to be applied along with the normal summon, and are scheduled to be applied on the 11/29 Update.
* The content is currently under development and is subject to change by the time of the Update.
Ignition Weapon (To be added on the 11/29 Update)
We provided some introduction to Ignition Weapon in the last Dev. Note, and since it is a content that will be released soon, we would like to provide more details about them.
The Ignition Weapon is an additional piece of equipment that can be obtained from [Expedition] → [The Secret Floor].
* The content is currently under development and is subject to change by the time of the Update.
You can challenge it by selecting the type of Ignition Weapon you want to acquire in the Secret Floor.
On 11/29, 4 types of Ignition Weapons will be introduced for the first time. Each Ignition Weapon has its own story and consists of 5 parts, and will have 2 and 4 sets of "set effects."
* The content is currently under development and is subject to change by the time of the Update. 
* The above screen is currently under development and is subject to change at the time of implementation.
The Secret Room has a Daily Attempt limit, but more attempts can be acquired by using Master Keys (obtainable from Daily Missions) or purchased by using Suspendium (daily purchase limits will be applied).
You can select a Restraint system when challenging a Secret Floor's stage.
The Restraint system is a penalty factor that debuffs Allies, buffs Enemies, and grants Restraint Points based on the Restraint Level when clearing the dungeon.
Quest Rewards will be distributed based on the number of achieved points. Quests reset every week, so you can keep receiving rewards continuously.
Daily Attempts will not be deducted and Master Keys will not be consumed if you are defeated, so make sure to take on various challenges!
You will receive an Ignition Weapon if you win, so you can challenge it yourself continuously to complete sets by focusing on your target weapon, and then create more options to form a stronger Team.
Ignition Weapons are divided in 3 Ranks, with Main Stats, and Secondary Stats.
Main Stats consist of a Stats set attached to each part, while Secondary Stats are applied randomly, independently of the part. Like that, Secondary Stats are not duplicated with the Main Stats.
The maximum Secondary Stat that can be achieved varies based on the weapon's Rank. The higher the Rank, the higher the maximum Secondary Stat that can be applied, and the better your weapon's performance will be.
* The above screen is currently under development and is subject to change at the time of implementation.
Like regular Equipment, Ignition Weapons can be Enhanced. Enhancement materials can be obtained through Quests or you can use other unused Ignition Weapons as enhancement materials.
For every 4 Enhancement Tiers, a new Secondary Stat is added or a Secondary Stat gets randomly enhanced.
We expect to bring a new exciting challenge to our Regulars' journey to the Top with the addition of a strong weapon anyone can obtain, Ignition Weapon farming, and set effects to match your Teammates – all following the stylization this type of weapon had in the original webtoon. We are preparing to thoroughly revive that expectation.
Other Convenience Features Improvements
We received various suggestions on major and minor inconveniences that require improvements, and as we review them, we are slowly trying to implement some of those suggestions.
In particular, the Automatic Challenge feature. Since the mid-levels in Adventure, we have received requests for a more convenient way to challenge the Tower.
* The above screen is currently under development and is subject to change at the time of implementation. (Korean Screenshot)
Along with the Auto Challenge, we also like to introduce the Power saving mode to save battery and allow you to check progress since there are quite a few occasions where you may not need to keep looking at your screen.
We hope this helps our Regulars enjoy the game more conveniently. The estimated date for application is 11/29.
Future Updates Plans
A light, fun Mini Game (To be added on the 12/06 Update)
Using Khun Hatzling's Arcade as a concept, we are creating a mini game event for our Regulars!
We received various suggestions related to the need for content to play other than Adventure Mode, so we are preparing mini games that are fun, and remain faithful to the original webtoon concept.
With cute Rak's help, you can rest your head a bit from repeated challenging battle stages with our first mini game, 'Climb the Tower!'.
This fun, light game where all you need to do is touch/tap the screen is set to be released on 12/06!
We hope our Regulars look forward to, and enjoy this game mode as we plan to connect it with missions that can be done with your Alliance Members.
* The above screen is currently under development and is subject to change at the time of implementation.
Alliance Content
We received many suggestions from our Regulars about Alliance content and the mention that there is not enough of it in the game.
After giving this a lot of thought, we considered that having the Alliance Event only once a month is indeed not enough, and we are preparing more Alliance content to enjoy with your Alliance Members.
The Check-in feature improvement, announced on the Dev. Note #2, is scheduled to be implemented on the 11/29 Update.
First, we'd like to announce features that will be added soon, the Alliance Mission System, and the "Tower of Alliances" – This is part of the Alliance 'Rival Battle'.
Alliance Mission System (To be added on the 12/06 Update)
This is a system where the Alliance members will earn points by completing Quests related to the degree that members are playing the game and will receive rewards based on the accumulated points.
The idea is to engage your Alliance Members, bringing everyone together while receiving rewards at the same time.
The Quests will cover events and basic game activities, and the rewards will be set to have a helpful structure for our Regulars.
* The above screen is currently under development and is subject to change at the time of implementation.
Tower of Alliances (To be added on the 01/03 Update)
This will be the first new content related to Alliance Co-Op Events, and consists of a 1:1 battle between rival Alliances!
Each Alliance will set up their own "Tower", creating Co-Op Teams for each floor with their Alliance member's Teammates. An Alliance member can challenge the other Alliance's Tower individually, and every Floor cleared will count towards the Alliance Total. The final winner will be selected based on the Alliance with more Floors cleared in total, instead of considering clearing difficult Floors.
Cooperate with your Alliance Members to create a strong Tower filled with a variety of Team combinations. Prepare for battle, and have fun attacking other Alliance's Tower!
More details will be announced through future Dev. Notes.
* The above screen is currently under development and is subject to change at the time of implementation. (Korean Screenshot)
We are also aware that there are other areas of Alliance content that need improvements.
More details about it will be announced once the improvement plan and schedule are confirmed.