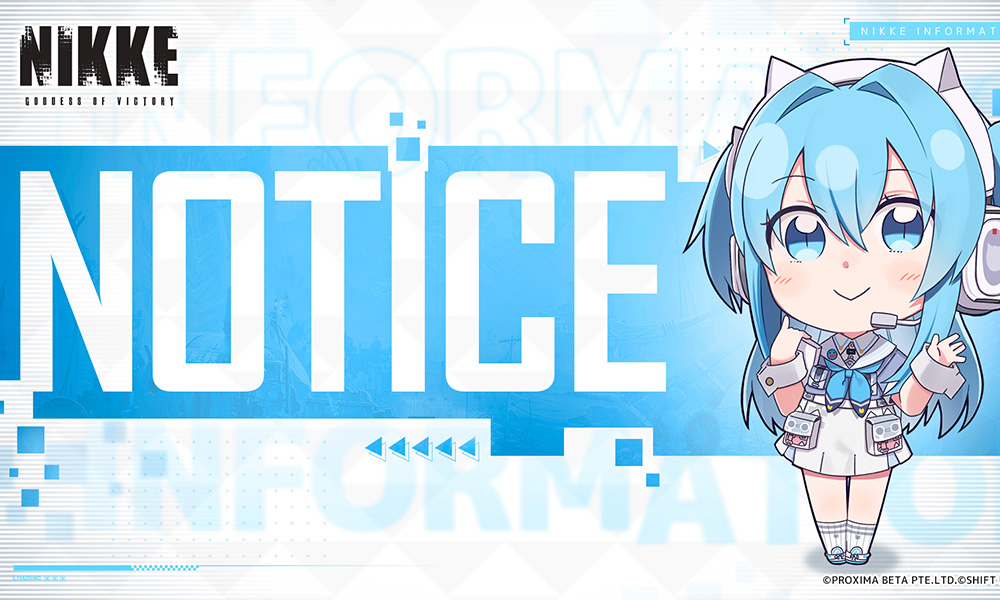 Update on November 2nd to fix the skills of some Nikkes.
1. Fixed an issue where Jackal's Burst Skill: Crazy Jackal affects the Distributed Damage dealt by 2B's Burst Skill: Series of Attacks.
2. Fixed an issue where the effects of Mary: Bay Goddess' Skill 1: Seaside Sunshine and Burst Skill: Tranquil Waters are not based on the final Max HP.
3. Fixed an issue where the Nikke's Ammunition Capacity is displayed incorrectly after she uses her Burst Skill with an active increase Max Ammunition Capacity buff.
Skills that increase Max Ammunition Capacity
– N102's Skill 1: Written Memories
– Mica's Skill 2: Brave Star
Corresponding Burst Skills:
– Modernia's New World
– Neon: Blue Ocean's Full Hydro Shot
4. Fixed an issue where the Raptures' movement are abnormal when they are forced to move due to Yan's Burst Skill: Fat Cat while performing specific actions.
5. Fixed an issue where some Burst Skill's range cannot be properly specified due to certain shields.
List of skills that creates a shield
– Folkwang's Skill 1: Starting Whistle and Burst Skill: Splint
– Ether's Burst Skill: Colossal Single Cell
– Aria's Burst Skill: Da Capo Aria
– Tia's Burst Skill: Lizard's Protection
List of skills with specific range:
– Yuni's Burst Skill: BDG
– Product 12's Burst Skill: Action: Precision Strike
– Signal's Burst Skill: Emergency Signal
– Belorta's Burst Skill: Tricky Bomber
– Soldier EG's Burst Skill: Eagle Shot
– Soline's Burst Skill: My Word, My Bond!
– Anis' Burst Skill: Pinpoint Missile
– Sin's Burst Skill: Words can Kill
– Viper's Burst Skill: Snake Bite
– Nihilister's Burst Skill: Burning Scourge
– Dorothy's Burst Skill: Paradise Lost
6. Fixed an issue in Coordinated Operation where the skill effects displayed are different from the actual buff when duplicate characters are included in the squad.
7. Fixed an issue where Neon: Blue Ocean's Burst Skill: Full Hydro Shut is dispelled during its use when she is stunned.