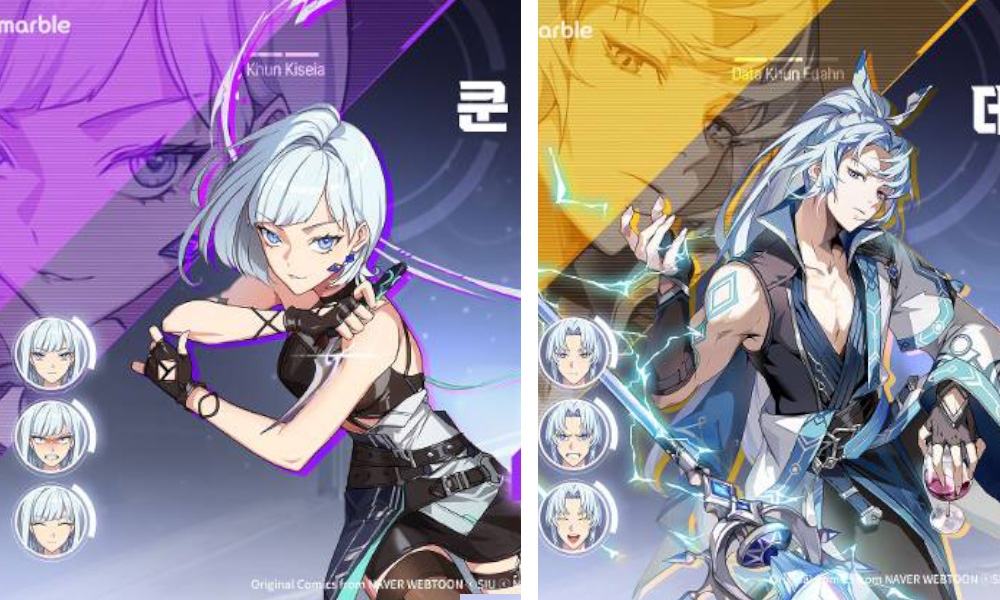 Kiseia and Edahn kits revealed!
The official KR YouTube for Tower of God: New World published the introduction videos for both Kiseia and Edahn. Sadly, the English versions aren't available yet and that's why we decided to translate their skills ourselves!
Please keep in mind those are rough translations.
Kiseia
Passive:
At the start of the battle, the attack power increases per ally except himself. When you attack an enemy with skill, the Baby Growler appears and leaves a mark. When an enemy in the marked state uses the active skill, the marker disappears and immediately seals the target.
Active 1:
Deals damage to enemies 5 times and causes them to bleed for a certain period of time. If the skill hits a critical hit, the damage of the next attack increases and the target bleeds until the end of the battle.
Active 2:
Teleport to the enemy with the lowest health, then slash with a dagger to deal damage, stun them, and hide. At this time, if the target's health is below a certain amount, the damage increases. Become invincible while using the skill.
Ultimate:
It becomes invisible for a certain period of time and catches the enemy from behind and deals damage. At this time, if the target has a shield, the shield is immediately destroyed and damage increases. During the enhanced state, attack power and critical hit probability increase, and if you are involved in killing an enemy, you will be hidden.
Edahn
Passive:
Each time the last basic attack hits the enemy, a mark is created, dealing damage and reducing defense. Each time the mark overlaps, an additional effect is applied to the target. – 1st stack: Paralysis / 2nd stack: Paralysis and proportional to maximum health Damage/ 3 stacks: Damage proportional to paralysis and maximum health.
Active:
Teleport in front of the enemy with the highest attack power and hit a lightning strike to deal damage and paralyze them before returning. You are immune to status ailments while using the skill, and your rapid speed increases for a certain period of time.
Active 2:
Creates an inviolable area that lasts for a certain period of time. The inviolable area blocks projectile attacks fired from outside the area and emits electric current to deal damage to attacking enemies. While the inviolable area is maintained, you are immune to status abnormalities and / increases.
Ultimate:
Throws a spear in an invincible state, inflicting damage proportional to maximum health to enemies with low health and stunning them. If the target is paralyzed, the attack is sure to hit, creates an additional mark, and invalidates the target's resurrection skill. The charm lasts for a certain period of time and inflicts continuous damage to nearby enemies.