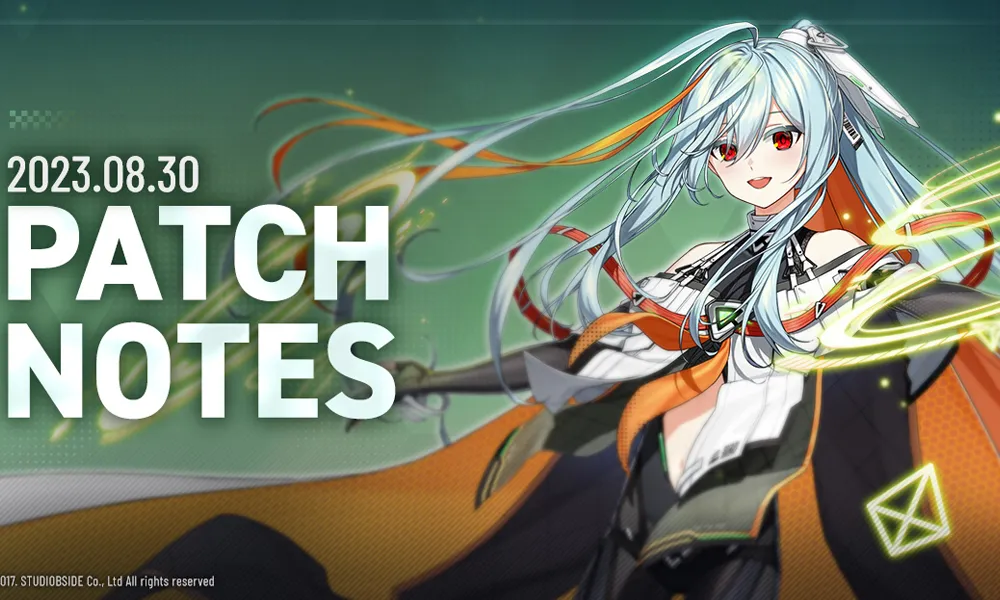 Maintenance Schedule – August 30, 2023, 14:00 ~ August 30, 2023, 16:30 (UTC+9)
Summary
Danger Close – Replacer King
Unit Balance – C.C.
Challenge Stage – Innovation Setup
Returning Units – Eins & Zwei and Gaeun
Returning Operators – Serina Crew and Rachel Dodds
Danger Close – Replacer King
[Combat Environment – Easy]
All units' Incoming Healing -30%
[Delta Seven & Delta Seven: Pathfinder] Units ATK +100%, HP & Skill Haste +50%
[Combat Environment – Normal]
All units' Incoming Healing -60%
[Delta Seven & Delta Seven: Pathfinder] Units ATK +100%, HP & Skill Haste +50%
[Combat Environment – Challenge]
All units' Incoming Healing -90%
[Delta Seven & Delta Seven: Pathfinder] Units ATK +100%, HP & Skill Haste +50%
[Repalcer King] Danger Close Schedule  – August 30, 14:10 ~ September 20, 2023, 04:00 (UTC+9)
[Repalcer King] Danger Close Settlement Schedule – September 20, 04:00 ~ September 27, 2023, 04:00 (UTC+9)
Unit Balance Update – C.C.
HP: +25% Increase
ATK: +15% Increase
Improvements
Zena & Yang Hansol's Korean voices have been added.
Trophies from Activity Pledges can now be selected as a [Main Employee].
A fix where if you had a fully built collaboration unit, a mission would be completed.

Kallen Kozuki Contract Mission
Never-Ending Festival Preparations
Changes
The requirement to unlock daily punch-in has been changed.

Before: Clear EP.1-2-4
After: Clear EP, 1-1-4

There will be no longer a R rarity upon creating [Swift Relic] gears.

Its place will be replaced with T4 Enhancement Modules.

After the update, all the gear drops from the Raid will be T5, not T4.
The [Half Anniversary Event Mission] schedule has been changed

Before: August 9 ~ August 29, 22:00 (UTC-5)
After: August 9 ~September 5, 22:00 (UTC-5)
Bug Fixes
A fix where Dash's Ultimate Skill effect won't turn off on some occasions.
A fix where [Send all Business Cards] did not work sporadically.
A fix where some of the Counter Pass missions were not working as intended.

Compensation of 20,000 Eternium will be sent via in-game mailbox during the August 30 update.
Compensation will be available until Sept. 6, 09:59 (UTC-5).

A fix where the Alternium Reactor's level won't drop in accordance with the ban level.