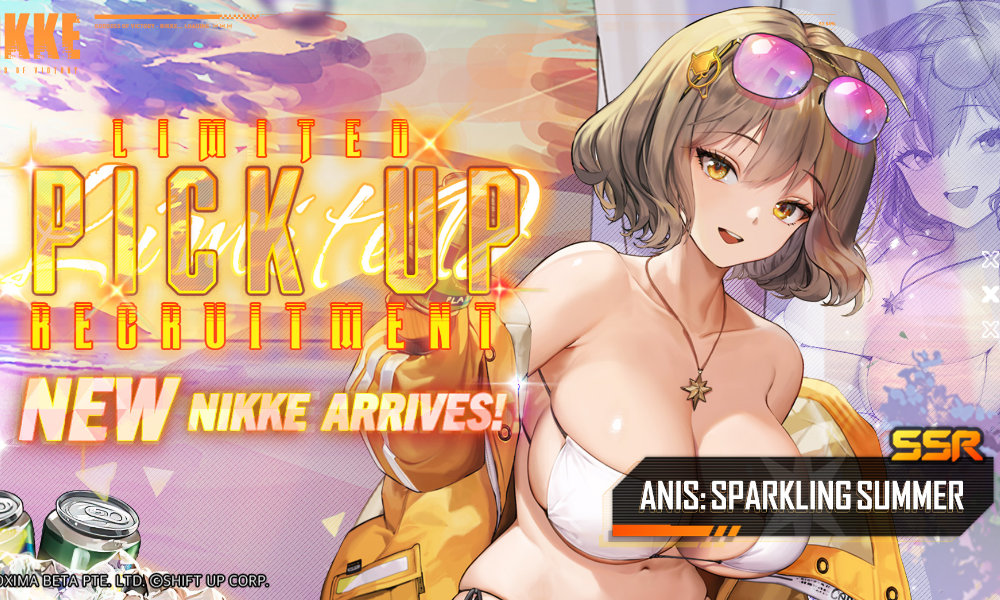 Summer Anis – review and ratings!
Disclaimer
This is an early review for Summer Anis, so her rating can change in the future as we will able to do more testing.
Information
Rarity: SSR
Burst: III
Weapon: Shotgun
Class: Supporter
Element: Electric
Manufacturer: Tetra
Squad: Counters
Skills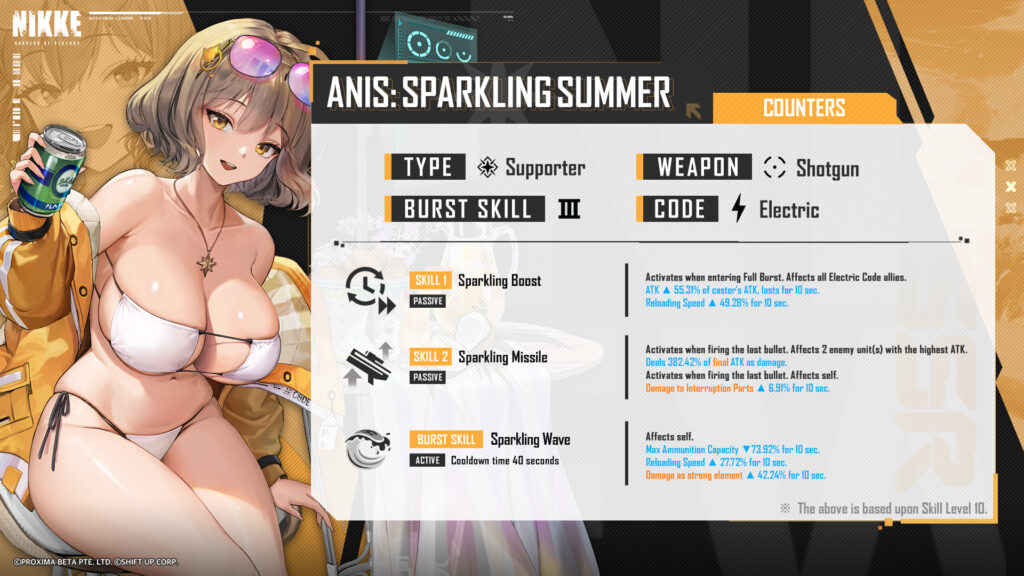 Review
The long-awaited unit with insane DPS and unquestionable supportive skills. A hybrid between DPS and support who fulfill both roles equally well. Too well, in fact. With Privaty, her damage can surpass Modernia and Scarlet in specific situations, such as when the enemy does not have a core or is of Water-type. This means she is also one of the best DPS one can abuse right now. Not only that, but she also buffs all Electric Nikkes in the team, particularly Scarlet, who enjoys around 30-50% DPS boost depending on Scarlet's base max ammo. Combine that with Priv for 109%+ reload speed, and Scarlet will reach greater heights!
For bossing, her potential is endless and proven. She is just a relentless beast waiting for the perfect moment to consume her enemy with massive electricity. She fights best against Water, but in reality, she is a maelstrom against other elements too. Against some bosses, she might even out-damage Scarlet and Modernia.
Meanwhile, for the campaign, she is a great buffer and might be situationally useful in certain stages with Water enemies.
Finally, for PvP, she is the embodiment of obliteration itself, punishing enemies who underestimate her Skill 2. Since her Skill 2 targets two enemies at once, taunters can only redirect one of them. This allows Anis to kill enemy DPS quickly!
Anis: Sparkling Summer also scales well with OL lines. You would want to aim for Attack and Elemental OL when possible. Hitrate is not bad either, but treat it as a bonus. DISPOSE OF ALL MAX AMMO LINES and AVOID USING HER WITH UNITS THAT INCREASE MAX AMMO.
Speaking of skill investments, upgrading her Skill 1 should be prioritized, followed by Skill 2. Her burst does not require upgrading much since most of the time using Privaty is enough. Better to conserve those Burst Manuals! If you plan to use Anis: Sparkling Summer in PvP, there is actually an incentive at Burst Level 9, which lowers her max ammo to 1 and exponentially increases her damage.
Pros
One of the current meta DPS with high-value support skills.
Scales well with overloads and skill investments.
Still strong even with lower investments.
Makes Scarlet great again.
Bullies Water bosses.
Despite being a Shotgun user, she still deals decent damage against far enemies due to her S2.
Her S2 hits at most 2 enemies, which can prove meaningful against mobs or bosses with adds, such as Mother Whale.
Cons
Support skills only buff Electric units.
Her DPS decreases significantly if not paired with Privaty due to ammo reduction.
Without Privaty, she needs her burst to be at least Level 9 to reduce her max ammo to 1, which is really expensive.
Last-hit mechanics limit the flexibility of team composition. Any max ammo buffs should be avoided.
She does not gain further benefits from reload speed beyond 90% due to fire-rate restrictions.
Ratings
Story – SS (early), SS (late)
Bossing – SSS (solo), SSS (with adds)
PVP – SSS
Should you pull?
Yes! She's really really good and also limited, so once her banner ends, she will be gone till next Summer.
Bonus – some damage screenshots