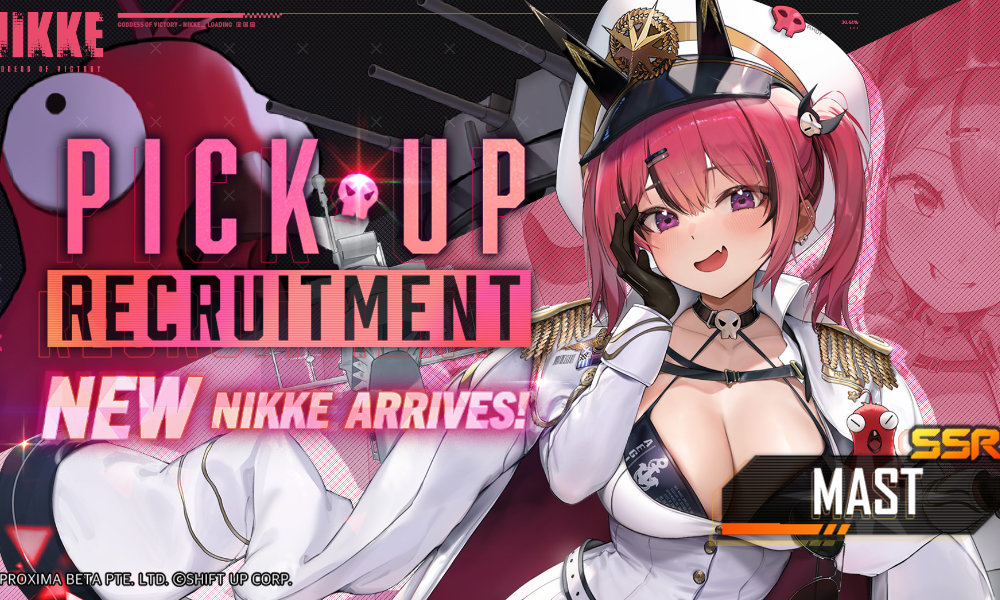 Mast – review and ratings
Disclaimer
This is an early review for Mast, so her rating can change in the future as we will able to do more testing.
Information
Rarity: SSR
Burst: II
Weapon: SMG
Class: Supporter
Element: Electric
Manufacturer: Elysion
Squad: Aegis
Skills
Skill 1 – Pirate's Grit
■ Activates when crit attack hits 2 time(s). Affects the target(s).

Sea Breeze: DEF ▼ 1.9% of the caster's DEF, stacks up to 50 time(s) and lasts for 3 sec.

■ Activates when HP falls below 70%. Affects self and 2 ally unit(s) with the highest ATK (except caster).

Critical Damage ▲ 50.94% continuously.
Mast's Skill 1 allows her to stack a lot of DEF shred on the enemy and considering that she's a SMG wielder, she will be easily able to reach the max stacks – and to do it really fast.
The second part of the skill will passively increase her own and 2 allies' CRIT DMG by a massive amount, but she needs to be below 70% HP to activate it, still – with the way her Burst works it's actually easy to do.
Skill 2 – Pirate's Sight
■ Activates when entering battle. Affects self and 2 ally unit(s) with the highest ATK (except caster).

Critical Rate ▲ 23.56% for 30 sec.
The value on the Crit Rate buff is really decent and it affects Mast and 2 of her allies right when the battle starts, but sadly it lasts only for 30 seconds.
Burst – Sail Through the Tempest!
Cooldown – 20 seconds
■ Affects self and 2 ally unit(s) with the highest ATK (except caster).

Max HP ▲ 60.34% of the caster's Max HP without restoring HP, lasts for 7 sec.

Critical Damage ▲ 25.19% for 7 sec.

■ Affects the target(s) afflicted with Sea Breeze.

Storm: Deals 4.52% of final ATK as damage. Duplicate stacks count of Sea Breeze every 1 sec for 7sec.
Mast's Burst is really interesting as her Max HP buff isn't healing the characters affected by it, which allows you to create some interesting teams and synergies – the character that can abuse this Burst the most is Guillotine.
Summary
The only unit in the game with a unique skill that allows the increase of MAX HP without recovering HP. While this on paper looks useless, it forms the key component for units whose skills get stronger at lower HP, such as Scarlet and Guillotine. She can also shred the enemy's DEF, which translates to increased overall team damage output. She also temporarily increases the team's critical rate at the start of the fight, so she can quickly stack her S1 as well as slightly improve the team's damage (especially SW) at the start of the game. Her burst can also help boost her damage a little, but it is mainly useless outside Scarlet and Guillotine's team.
I recommend pulling her only if you are planning to build a Guillotine team as she is designed for her, primarily. In other words, niche B2 buffer. That aside, there is a hypothetical use for the increased MAX HP in some situations, where enemy damage is so massive you need higher HP to parry it. You can combine Mast's and Helm's Burst to quickly allow your attackers to enjoy increased MAX HP for 7s. Note that the DEF shred is a debuff, which means she should ideally fight a standalone stationary boss. Her S1 becomes quite useless when dealing with too many mobs.
Pros
Max HP increase without the healing attached makes Mast a great pairing with some characters,
Massive CRIT buffs,
DEF Shred which helps against the bosses (as she needs to stack it).
Cons
CRIT buffs are still inferior to ATK buffs with the way the damage formula works in the game,
Since her Max HP doesn't heal this limits her usage.
Ratings
Story – C (early), C (late)
Bossing – A (solo), B (with adds)
PVP – B
Should you pull?
If you're a F2P player? Not really. She's a niche B2 buffer that is made to pair with Guillotine, but otherwise, it's hard to use her.