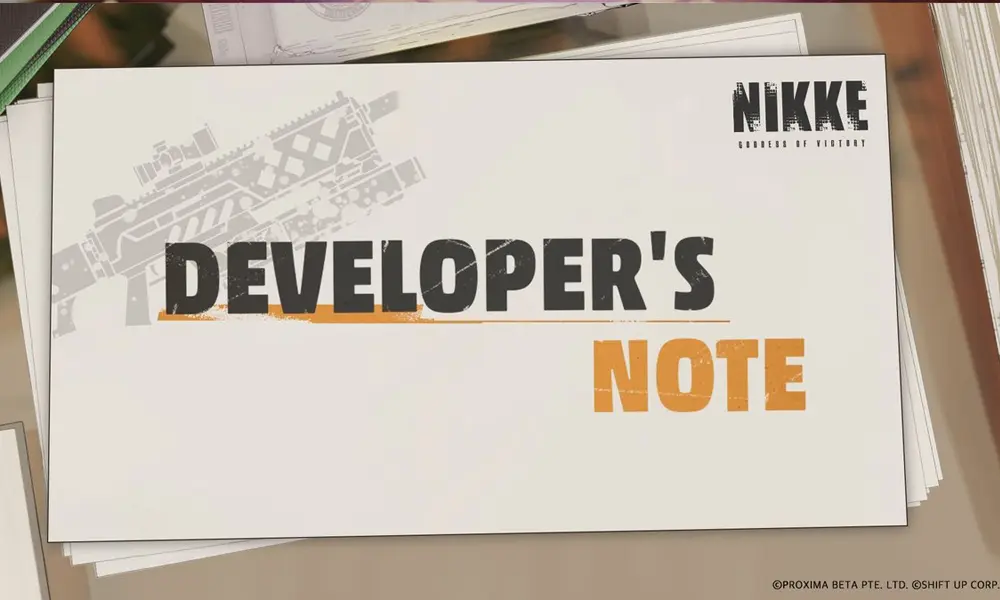 I'm Hyungsuk Yoo, the director of GODDESS OF VICTORY: NIKKE.
July is the month when nature brings forth its lush green blessings and the sun shines upon us blazingly. As we enter this month, we wish everyone a happy summer. Make sure to protect yourself from the heat and stay healthy!
After the half-anniversary, we received many requests from players to improve the contents. So today, I will start off by introducing the major improvements to be expected in August.
Contents Improvement – SP Arena
First of all, allow me to introduce the additional improvements made to the gameplay we get the most feedback on – SP Arena.
Based on the outcome of the changes to SP Arena's season rules last June 15th, we believe we have made a misjudgment. Back then, we thought that solo experience in a group was not useful in executing missions normally, and that groups with too many active players would aggravate unnecessary competition.
Most importantly, when accounts are generated and enter the Arena, the group option is not provided. As such, a significant difference in experiences occurs according to the account's time of generation. We believed there is a balance issue in this rule, so we assumed that normalizing this part would be fair and helpful.
However, we failed to enhance the rewards system appropriately corresponding to the rule changes, thus making a huge mistake and causing even more intense competition.
The main contents of GODDESS OF VICTORY: NIKKE are the Main Stories, Character stories, and PvE. It is inappropriate to create so much pressure and competition in PvP, and this does not align with the direction we are going for. We apologize for bringing confusion regarding our operational direction due to a flawed improvement. From now on, we will focus on PvE, revolve around the stories, provide appropriate contents, and avoid excessive competition.
Also, the server I am in was generated at the beginning of the game's launch. There are many active players in here, so the group ended up being split into many. I was too naïve to consider the possible situations that Commanders outside my group would experience. I'm sorry for not providing a logical system for you all.
On July 20, we will be introducing a full makeover to the SP Arena rewards system. Aside from increasing the rewards supply, we will adjust the ranking divisions for the rewards to alleviate the pressure of competition.
In February 2023, the total Gems distributed in SP Arena seasons based on the number of players was 712,678,400. We noticed that after the season rules change on June 15, the number fell to 533,441,200 (74% compared to before the June 15 seasonal rule change). In consideration of the increase in competition, we decided to reform the SP Arena season rewards system and fix the number of Gems to be distributed per season to 1,026,086,800 (144% compared to before the June 15 seasonal rule change and 192% compared to after the seasonal rule change).
Of course, since the number of players has changed since February, the number of Gems provided will change accordingly. The percentage of rewards distribution, however, will be the same. For your reference, we have prepared a table containing the changes in ranking divisions and the corresponding number of Gems given.
Before
After
Rank
Gems
Rank
Gems
1st place
3000
1st to 3rd place
3000
2nd place
2700
3rd place
2400
4th place
2200
4th to 6th place
2700
5th place
2000
6th place
1900
7th place
1800
7th to 10th place
2400
8th place
1700
9th place
1600
10th place
1500
11th to 25th place
1200
11th to 30th place
2000
26th to 30th place
900
31st to 50th place
900
31st to 60th place
1600
51st to 50th place
600
61st to 90th place
600
61st to 90th place
1200
91st place to Diamond rank (Around 120th place)
600
91st to 120th place
800
Below Diamond
0
121st place to group members
300
Aside from this, we have received lots of feedback regarding the huge pressure due to the short regrouping time in SP Arena. To establish more reasonable standards and rules, we will revisit the regrouping cycle in SP Arena with the relevant development departments.
In the future, we will discuss our overall direction and what is appropriate with a broader perspective and examine our updates more meticulously. Moreover, we will conduct more detailed discussions about your feedback and explore what we can further improve to give you a better gaming experience. We sincerely thank every Commander who sent in your precious comments through the customer service center and the community.
July 6 Contents Improvement – New Costume Skill Cutscene
We initially wanted to publish this developer's note before July 6 and inform you about the additional unique-level costume skill cutscene, but we were unable to do so at the right time as we were caught up in development and update matters. Because of this, we got many questions from Commanders regarding the reason behind adding the cutscene. So even though the update has pushed through already, I'd like to take this opportunity to tell you about our intentions and the contents.
When we first updated the unique-level Rupee: Rabbit Deluxe costume, we received a lot of feedback, half of which were expressions of regret about the costume not having a skill cutscene. To give everyone a more satisfying gaming experience, we made an emergency decision to provide after-sales service.
We also got many inquiries and complaints, asking if we are selling reruns because we only care about our sales performance. To be very honest, that is not the case. GODDESS OF VICTORY: NIKKE is a platform that provides continuous live service and content. For a live service game, the quality of your experience and your preference responses are of utmost importance. They are what give us content developers ample motivation to keep providing service. In other words, the temporary explosive growth of sales as perceived by some Commanders are not important to us. What matters more is maintaining a great experience for all Commanders in the long term. The same goes for purchase experience. A terrible purchase experience is what we and the dev team should avoid giving. Needless to say, we are deeply sorry for inconveniencing everyone with the various issues and problems in the services we have provided so far. We have been doing our best to conduct maintenance and provide after-sales service in these areas, and we will act responsibly to enhance your experiences. These are the reasons we decided to add a skill cutscene to the Unique costume. We hope you can understand.
Next, I would like to answer the question about compromising the limited costume's rarity.
To maintain the rarity of limited costumes, a common practice is to introduce a gap between the time of initial selling and the time of rerun. I am clearly aware of this, which is why there has been no rerun of limited characters and costumes eight months into the launching of the game.
But if we are to conduct after-sales service as per your suggestions, we believe special maintenance is needed occasionally. This is an unchanging fact. I hereby express my deepest apologies if this disappointed you, and I wish for your kind understanding regarding the re-release of Rupee: Rabbit Deluxe.
We have also received many comments about the uniformity issue of accessories in the standing pose and battle pose. We've finished the amendments to the images concerned, and we will reorganize the developing process and review the images carefully before launching them.
Additionally, we have replaced the components in future Costume Gachas with more charming elements. We put forth our best efforts in creating these enhancements, and we hope you will eagerly anticipate them. Subsequently, we will delve into your suggestions more rigorously and assess whether there are things we need to further improve.
July 6 Contents Improvement – Others
We've updated the ease-of-play function that returns the extra EXP in equipment upgrade as materials. The requirements in daily and weekly missions have been changed from Rookie Arena victory to Rookie Arena participation, and a red dot indicator has been added to Harmony Cube to indicate the enhancement availability.
Furthermore, we would like to briefly explain some July 6 updates for the Commanders who were unable to check the bug list and developer's note.
Thank you to everyone who sent in valuable comments in the community and the customer service center.
We will continue to work hard so you may have more fun in a more comfortable gaming environment.
Solo Raid Improvements
Please allow me to detail the improvements made to Solo Raid contents.
Solo Raid is the best gameplay where one can experience different kinds of groupings and relationships. However, we believe more improvements are required as the pressure of gaming in Solo Raid is too great.
As a result, we plan to add a confirm team function and copy function in early August for Commanders who have entered the Solo Raid rankings. Since many Commanders study the Nikkes' team relationships, we hesitated for a long time and finally resolved that this is an essential element for the game's content and long-term service. Therefore, we decided to add this function for ease of play. Some of you may find this improvement a bit inconvenient, but this is an upgrade for the sake of a better experience for everyone. We humbly ask for your understanding.
At the same time, we will make more improvements to Solo Raid in the future to avoid random patterns. Currently, boss battles in GODDESS OF VICTORY: NIKKEare divided into various gameplays, including Campaign, Interception, Solo Raid, Challenge mode, Union Raid, etc. We are also dealing with great pressure because of our individual balance work and pattern division tasks, but we still believe that random patterns in Solo Raid are an unpleasant experience that we should not allow. Hence, we will invest additional manpower to improve this.
In addition, we are studying and resolving the issue where attacks are not launched at Tyrant Raptures such as Mother Whale within a certain time. As this needs to be fixed from the fundamental battle structure, we need time to investigate. Rest assured that once we are certain about when we can solve the problem, we will inform you through a developer's note.
Improvements to Ease of Play
GODDESS OF VICTORY: NIKKE started off as a portrait-mode mobile game, but we adopted the comments and suggestions we received the most and introduced the horizontal mode and PC version afterward. This resulted in some shortcomings with regard to the ease of play and prompted many of you to submit feedback to us. Although we are still lacking, we will do our best to collect your feedback and make further developments, achieving them one by one. Soon, we will be adding an ease-of-play function that allows zooming of the battle UI in mobile horizontal mode or tablet and PC versions.
We will also provide an additional battle-related ease-of-play function. Due to the Nikkes' fast pace in battles, damages are displayed frequently, sometimes obscuring the visibility of both enemies and allies. To facilitate better observation of the battlefield, we are adding the Damage Plotter On/Off function.
Moreover, the Main Story is, true to its name, the major content of GODDESS OF VICTORY: NIKKE. Due to the extensive amount of text and contents, it takes time to finish all of them. The lack of ease-of-play functions also makes it inconvenient to watch the scenarios, so we will be adding a "keep watching" function in Recollection for easier viewing of the scenarios. We will be introducing the bookmarks function as well so you may check the scenarios you want anytime.
The abovementioned improvements to ease of play are expected to take place in early August.
New Contents
Now, I would like to brief you on the new contents and update schedule.
A new Main Story, Chapter 23, and Chapter 24 will be added soon. In the story this time, the Ark will experience a major incident, and many characters including Nikkes will welcome changes around them. Personally, I think this is a chapter worth anticipating, so please look forward to it. The Main Story will be updated on July 20, along with the addition of Bla Bla Messenger.
Afterward, SEA, YOU, AGAIN, the second part of the grand summer event, will begin on August 3.
A suspicious signal has been detected near the sea visited during the Blue Water Island event in June. Once again, Counters Squad sets off to carry out their assigned mission. During the process, Kraken, the very first offshore Tyrant Rapture made in the first invasion, opens its eyes.
There will also be a mini-game named Barbeque, which is set in front of the campfire on a romantic night by the sea. Commander, Neon, and Anis, who couldn't be active in the previous mission, will be participating in this mini-game. Please look ahead to it!
Since the game's launching, we have been striving to increase and solidify the completion and perfection of our narrative by expanding the event scenarios by double and including scenarios in mini games. In the coming days, we will give it our all to make the game even more fun and interesting. One of our steps to achieve that is to present event-exclusive Brief Encounters in the August event.
Not only that, the SEA, YOU, AGAIN event field will see changes in its weather at different times. There will be more contents than the summer event in June, and we hope they give you an enjoyable and diverse summer event experience.
Also, from July 20, we will be holding the Golden Ship event, which serves as a warm-up for the grand SEA, YOU, AGAIN event. Aegis squad and a new character named Mast will turn up, immersing you in the seasonal feel of summer while cooling you down with their refreshing vibes. Make sure to stay tuned!
Lastly
I am a game junkie. For over twenty years, games have been my best friend.
On top of that, as a developer, I've always wanted to make a masterpiece that can be remembered by everyone. Being the director of GODDESS OF VICTORY: NIKKE is my job and my life right now. It is a game that I brought about with this mindset, and until now, I've always held the ambition to make it one of the best games out there.
I don't know if I can do that with my current capabilities, but throughout my game development journey, it has been my motivation and goal. Although I think I'm still lacking in many aspects, I don't want to leave any regrets in GODDESS OF VICTORY: NIKKE.
Truthfully, we put in massive amounts of effort to the point that I don't remember how the first half of 2023 went by. I even realized that I haven't had a haircut for four months already. I will go get one soon so I don't look so unkempt, but I will still do my best to give you a great gaming experience.
But recently, I discovered that all this cannot be achieved with passion alone. Although I only want to say good things in the developer's note and see positive feedback in the community, I know that I have to keep grinding to reach this goal. Starting with myself, I must do everything well.
We wish for your continuous support, and we are incredibly sorry and thankful.
We promise to repay the love you have for GODDESS OF VICTORY: NIKKE.