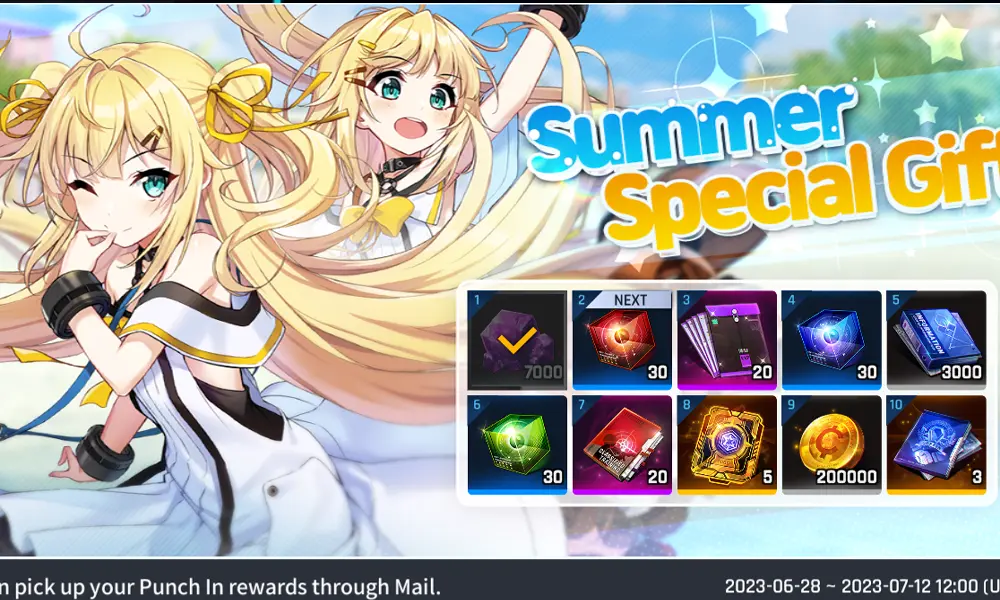 Patch Notes and Shop.
Maintenance Schedule – June 28, 2023, 14:00 ~ June 28, 2023, 17:00 (UTC+9)
Summary
New Counter Pass – Skia Crow
New Gauntlet [Sincere] Season
Returning Awakened Employees – Hilde, Horizon and Na Yubin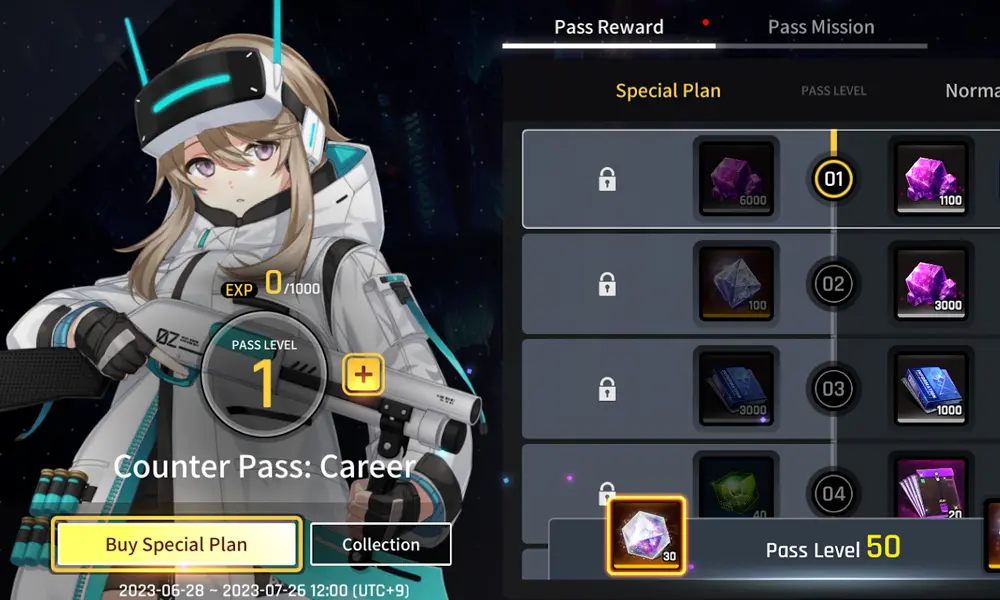 Skia crow is a cheap ranger that does not really deal that much damage compared to other 2 cost rangers, while also having a ramp up time. Instead she can be used as a nuker with her passive resetting the CD. Depending on the direction she is facing before the passive activation, she can be used to bounce to the enemy ship finishing it off, or gain access to the backlines.
Ratings:
PVP (GBL) – B
PVP (SEA) -A
PVE – B
Substream: Seasonal Record
1) [Seasonal Record] Tab will be added in the Substream section.
2) The following seasonal stories will be added.
World's most delicious and horrifying chocolate
Fateful Summer
Winter Cabin Party
Vice President's Holidays
※ A new season event story will be added to the [seasonal record] after a certain amount of time.
Ship Balance 
1) Every ship regardless of their rarity will now receive skill seal immunity.
2) New Ohio & Gleipnir: Pod Type's skills are adjusted.
New Ohio
■ Original Antipersonnel Tactic (Passive) Effect
Enemy Soldiers' DMG Taken AMP +10%
Enemy Soldiers' DMG Taken AMP +15%
Enemy Soldiers' DMG Taken AMP +20%
​■ Renewed Antipersonnel Tactic (Passive) Effect
Ally units' Anti-Soldier DMG Increase +10%, deployed units' Knockback RES +50% for 10 s
Ally units' Anti-Soldier DMG Increase +15%, deployed units' Knockback RES +75% for 10 s
Ally units' Anti-Soldier DMG Increase +20%, deployed units' Knockback RES +100% for 10 s
Gleipnir: Pod Type
■ Adv. In Static's (1st Active Skill) is now working as intended.
Improvements and Changes  
1) When a piece of equipment is selected, it will now show players where it can be obtained.
2) An option to stop the animation of units placed in the lobby is added.
If the selected unit's facial expression option is changed, then the animation will resume.
3) An option to modify the order in the [favorites tab] is added.
4) Gauntlet emote settings will carry over to every gauntlet mode.
5) An improvement where the last stage's information UI at the dungeons with three stages will no longer interfere with the main UI.
6) An improvement where upon entering the [salary negotiation], the unit selected for the operation will now have their salary negotiation voice spoken.
7) An improvement where players who did not log in for more than a week will no longer show up at the [Find Partners] tab.
8) An option to change the mouse cursor at the PC client version is added.
You can turn it on and off at the [Settings – Game – Mouse Cursor] 
9) A change where upon trying to enhance equipment, it will now first show the list of modules you have.
10) A speed option of x0.5 is added in the [practice mode].
11) [High-quality sound effect] option is now added.
It is turned ON by default and can be changed at the [Settings – Sound – High-quality Sound Effect]. 
Various sounds have been equally balanced and adjusted.
Upon in-game sounds overlapping each other, it will now provide a more stable sound.
This function will use up additional memory. As such it is recommended to turn this option OFF on lower-end devices.
12) On the battle report after the co-op battle, acquirable artifacts and the purification rate will now be displayed.
13) If you have selected a specific substory episode and if it has related episodes, it will now be displayed on that selected episode screen.
Bug Fixes 
1) A fix where upon changing the unit's facial expression when the animation is paused, the illustration would not display correctly.
2) A fix where gained unit experience will not show up after clearing the [Mainstream].
3) A fix where the [Ensured Recruitment] is less than 10 in the [Custom Pick Up], it will still show up as 'recruit 10 time(s).
4) A fix where [Consotrium Notice] would go over the UI when the announcement is too long.
5) A fix where CEOs would be able to enter unopened contents.
6) A fix where an error popup would show up when selecting & holding on the list of [Custom Pick Up].
7) A fix where enhancing equipment would sporadically not work as intended.
8) A fix where a list of equipment will not show up after the [equipment filter option] is set.
9) A fix where the maximum operation count goes over the number of [Exploration Permit] a user has upon proceeding to a [Safe Mine].
10) A fix where recommended equipment type does not match with the unit type.